Tag: rain
Last week, I was contacted by Kenneth from Lomography Gallery Store and invited me to shoot with a La Sardina. The photos would then be displayed for a mini-exhibition to be held in conjunction with the launch party for a new design of that same camera. They would lend me the camera, give me 3 rolls of b&w film, and I would shoot street with it for the weekend. I always wondered how it would be like to shoot street with a lomo, so I said 'count me in'.
I love shooting in the rain. If it's a weekend and it's raining, you'll probably see me with an umbrella on one hand, and my camera on the other, walking (sometimes running) around Orchard Road taking photos of strangers as they run from one mall to another. Often times, it's an adrenaline rush for me. As it turns out, the same can be said to the ones on the other side of the lens.
I love shooting strangers under bad weather. And for a while now, I've always wondered how it would be to shoot bad weather at night. I could only imagine how dramatic the shots could be with the combination of heavy rain and the night lights. Just a few nights ago, I've had the chance to do just that.
I was standing in the middle of one of the heaviest rain I've shot on. As always, I was drenched from waist down and I kept my camera as close to the umbrella as possible. I've been waiting and shooting for about 30 minutes shooting here and there, but I haven't really seen anything peculiar... until I saw a woman from afar wrapped with a shawl walking gracefully towards my side of the street. She just stood out from all the others who were equally rushing to shelter. It's one of those moments when I thought "I HAVE to photograph her."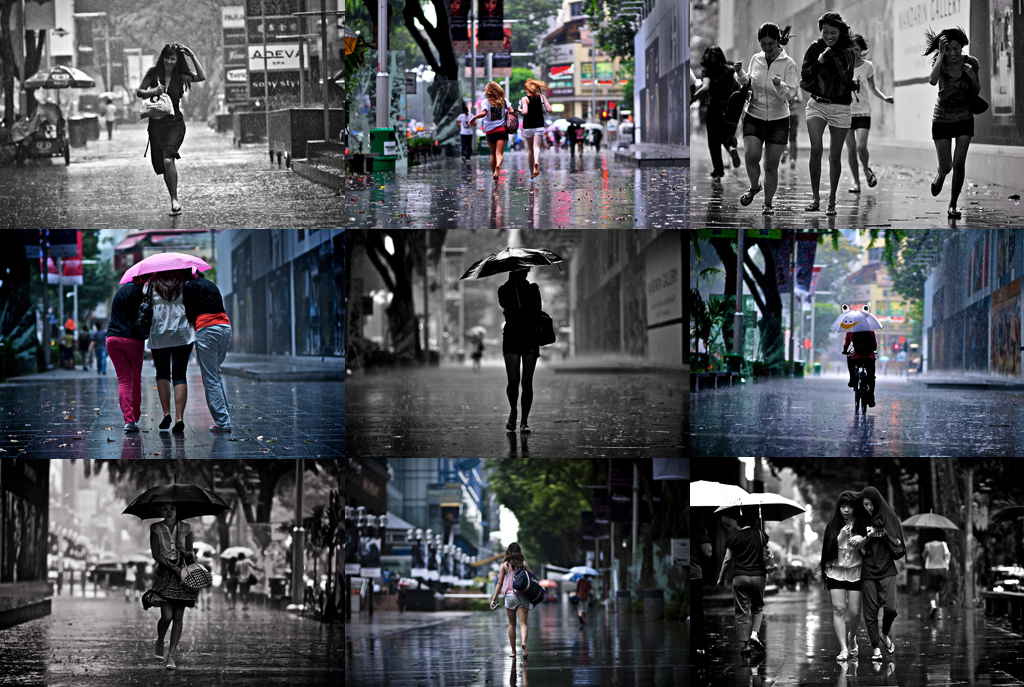 I'm a weekend photographer, and I used to always stay at home and sulk whenever it rains on a weekend. I figured: the light's no good, my gear could get wet, and the streets would be empty. There wouldn't be anything worth shooting. I'd complain in the forums whenever a weekend goes by and it's raining all afternoon. Until someone replied and suggested "why not shoot in the rain and see what you come up with?" I paused and figured "hmmm, why not?"
---