Share
I'm a weekend photographer, and I used to always stay at home and sulk whenever it rains on a weekend. I figured: the light's no good, my gear could get wet, and the streets would be empty. There wouldn't be anything worth shooting. I'd complain in the forums whenever a weekend goes by and it's raining all afternoon. Until someone replied and suggested "why not shoot in the rain and see what you come up with?" I paused and figured "hmmm, why not?"

So there I was on the next rainy weekend, walking in the middle of the downpour with an umbrella on one hand, and my camera on the other. I walked and waited for quite a while, hoping for something interesting to happen. The street, as I suspected, was empty. But then I'd see the occasional lone drifter walking amidst the heavy rain in the middle of an otherwise crowded street. That's when I realized the potential for interesting human drama in bad weather. That's when I'd start to get excited with the rain. After a few weekends of walking, waiting in the rain, with a little luck, I've captured these scenes:
A man in a bike with a happy umbrella
This man in a bike was going towards my direction. He saw me take pictures of him and he swerved to avoid me. As he passed by, I turned around and noticed something peculiar about his umbrella. It was smiling at me.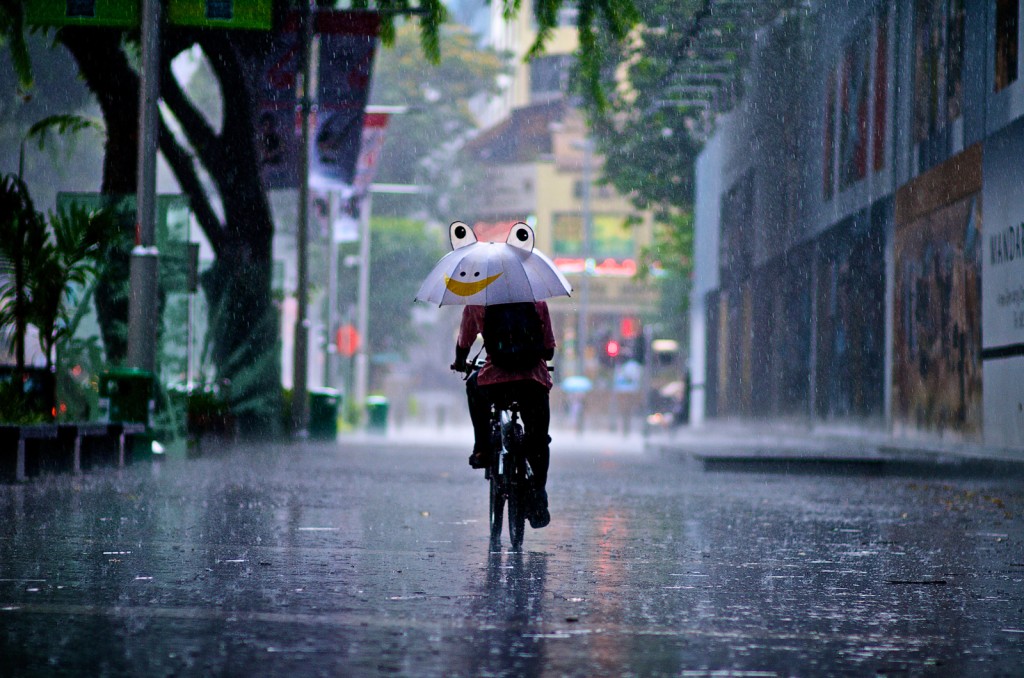 Three friends and a small umbrella
I noticed this group of friends chatting, walking under the shade of a tree. As soon as they stepped out of the shade, they screamed as they realized it was raining! So they quickly huddled into the one umbrella they had. I could still hear them giggling and laughing while I took this shot.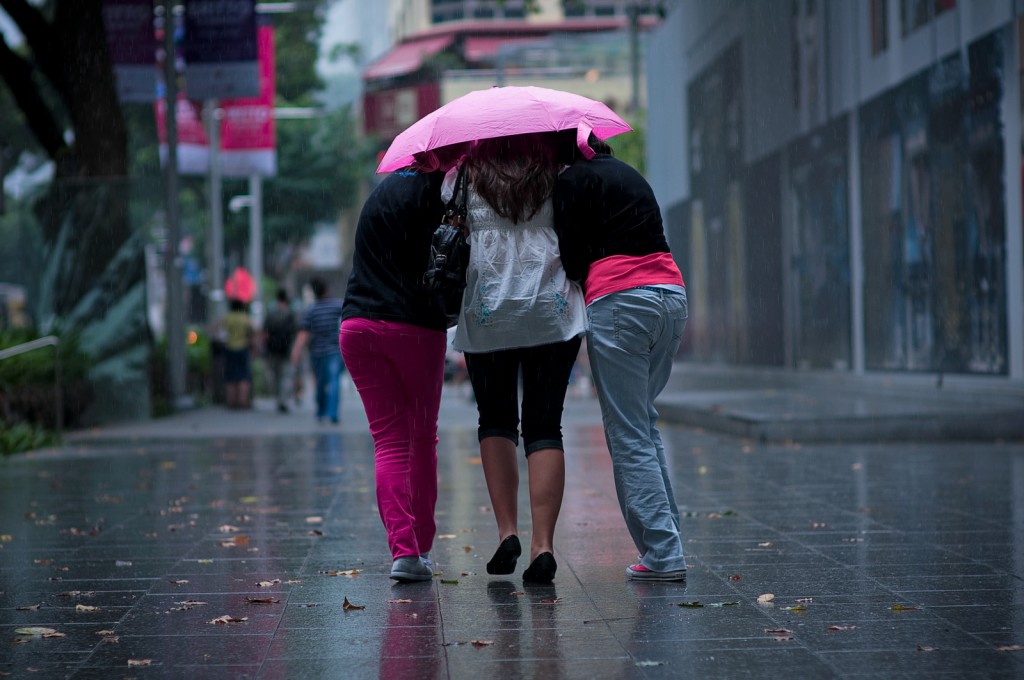 A woman running to cross the street
I just crossed the street when I saw this woman suddenly run from the shade and into the rain – and with the biggest smile. I quickly crouched down and fired a couple of shots. On closer look, the writing on her bag perfectly complements the woman's beauty and grace under the commanding rain. The print says "International Women's Day"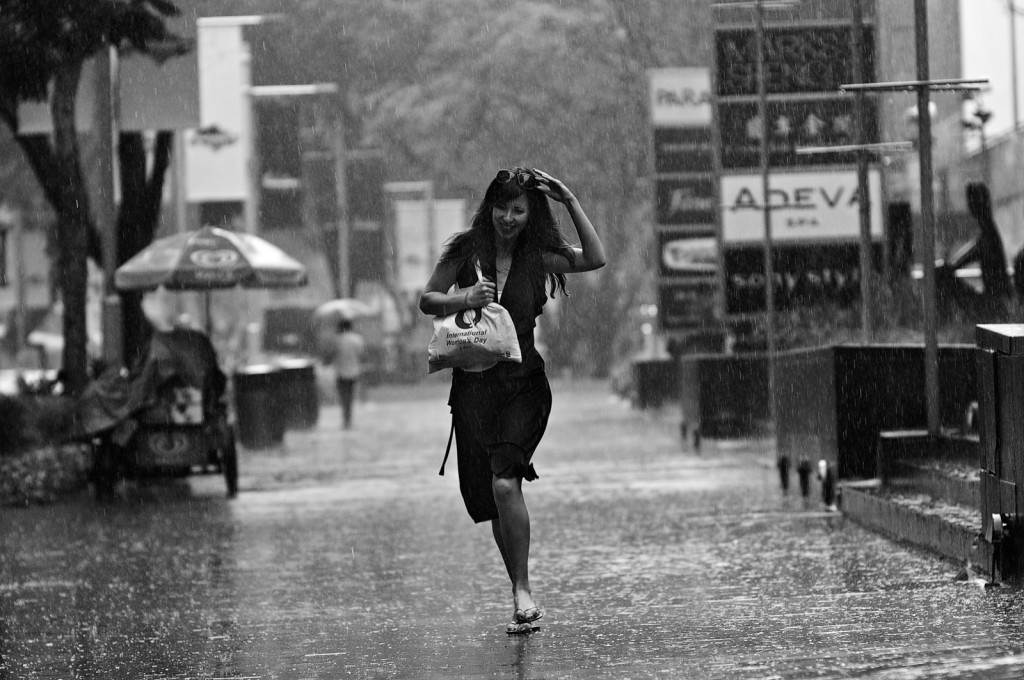 Two girls running barefoot
A crowd full of umbrellas was walking towards me. I noticed two girls sprinting ahead of the crowd. When they ran past me, I quickly turned around, swung my camera and took photos. It was only when I reviewed the shots that I noticed they were running barefoot. I guess they had new shoes or something.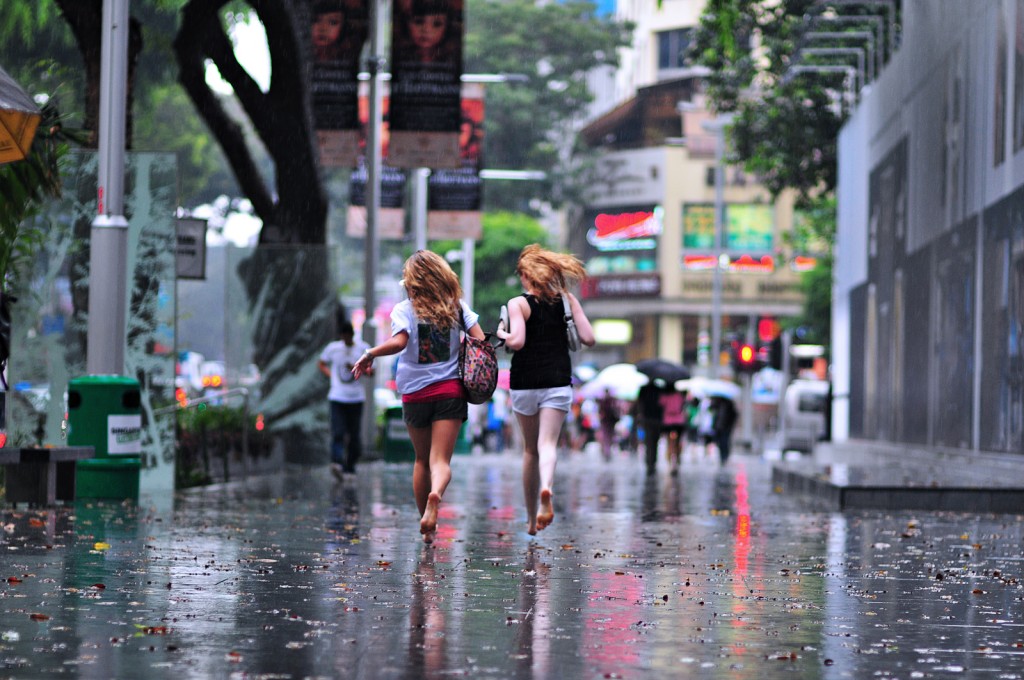 A silhouette in the rain
I noticed a lone girl from afar, walking towards my direction, with her umbrella leaned forward coz the rain was pouring hard. I crouched down and took photos of her. She couldn't see me nor hear my camera clicking away and she was getting nearer and nearer. This photo was the very last frame where she raised her umbrella… I think she noticed me.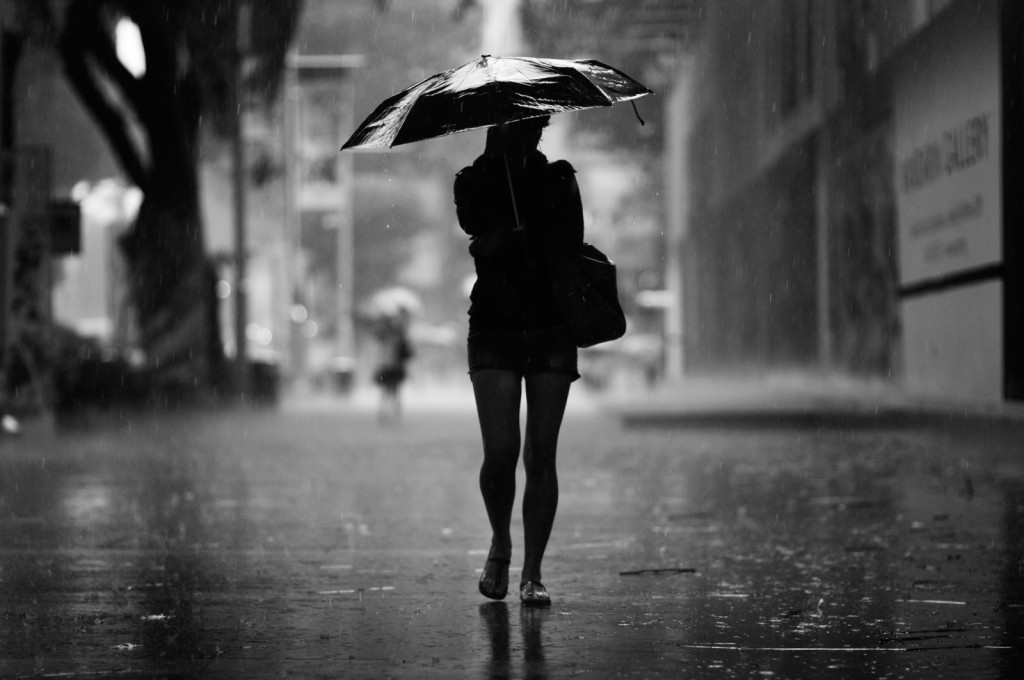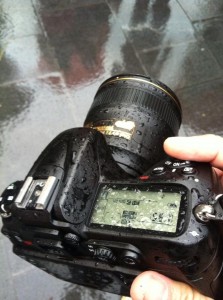 After every shoot I do in the rain, I always end up soaked. I'd be all wet from waist down, my camera with more than a few drops on it, my feet aching from all the walking, and with a little luck, I'd get a few keepers. And it's all worth it.
Nowadays I constantly check the weather forecast to see if there's a thunderstorm brewing in the coming weekend. The rain for me has become a blessing in disguise. What I used to detest and avoid, now I have learned to welcome and embrace. It gives a literal meaning to the saying "life's not about waiting for the storm to pass… it's about learning to dance in the rain!"
Please click here to see more bad weather shots.