Share
It's been a long long time since my last blog post… around 2 years. My apologies for this, I've been crazy busy with client shoots. I'm not complaining though, busy is always good, right? Anyway, in the next few weeks, I will regularly be coming back to this blog to post some of the interesting projects I've had the pleasure of being part of, some of which I've had to fly overseas for. So please do stay tuned.
To fire this blog up from it's long slumber, I will start with a personal project that I actually worked on 3 years ago. The idea was to photograph artists within their workspace. And I didn't limit this to traditional painters and sculptors… I also included a tattoo artist, a calligrapher, a chef, and a leather craftsman.
The concept was quite simple really, but I've always been intrigued with seeing different artists' creative spaces, and getting to meet and ask different artists their way of working. I guess this was also my way of getting inspiration and tips on doing good art.
To be honest, this project was also self-serving. At that time I just learned how to light for portraits in a studio. And I knew lighting on location was a different beast, so this shoot gave me a chance to push my technical know how for environmental portraits.



Each artist was a challenge as we would go to their studio without a recce, determine the composition and lighting, and most of the time move furniture around for the sake of the shot and positioning the lights. We were very lucky as all the artists were very accommodating. It was an amazing experience as they welcomed us into their private workspace. Each shoot was a chance to learn something new.
We got to shoot 14 artists around Singapore in 7 weeks. Here are a few shots we did: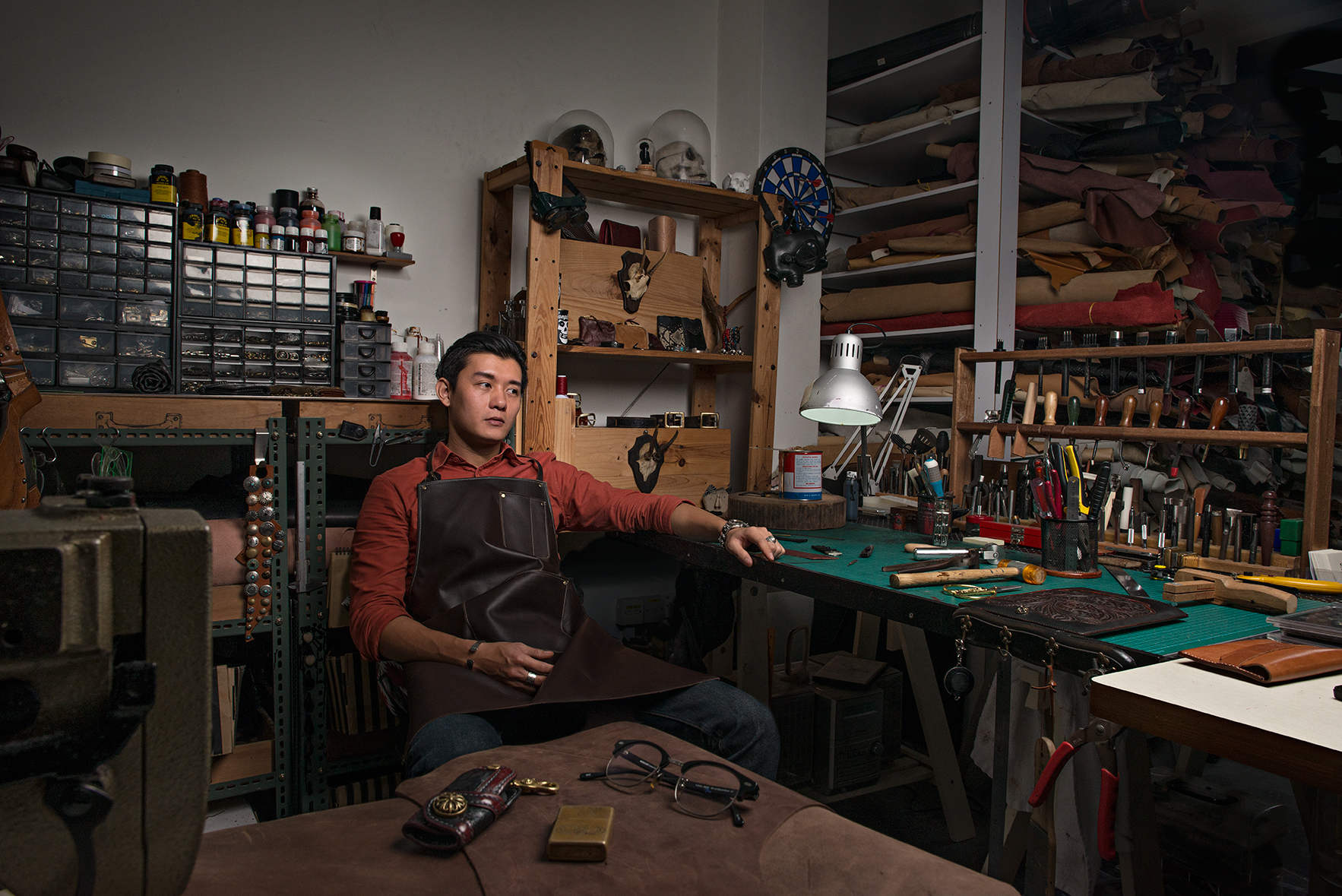 Xiehui Stone, leather craftsman
You can view all the portraits as well as the quick descriptions of each artists here.
Big big thank you to Claude for getting me in contact with the initial list of artists. You helped me jumpstart this project. Also big thanks to Paula and Reuben for the assist during this shoot!
And of course, this wouldn't have been possible if not for the artists who welcomed us in their studios: Valeriu Sepi, B. Jane Cowie, Gregory Burns, Feroze McLeod, Jose Bosco, Michael Ng, Ben Qwek, Clarence Wee, Ryan Clift, Brian Adams, Madhvi Subrahmanian, P. Gnana, and Xiehui Stone. Thank you, guys!