Share
I've been shooting street for almost 2 years now, and looking back at all my "keeper" shots, the feeling when I took each and every one of these photographs is still pretty vivid in my mind. I may not remember the settings for the camera, but the thought process I had at the moment of the shutter click I can still recall. And every time I browse back to these old shots, there's always this one photo that's special to me. This was my first good street photograph – the first one that didn't look like an ordinary snapshot – the one where I thought to myself "Hey, I can do this thing."

It was in one of my first few times shooting in Orchard Road when I spotted him. I don't usually like shooting street performers because I always felt it was too easy – and most that I've seen just looked ordinary. Nevertheless, I still decided to take a quick photo. When I went in front of him, I quickly noticed the print ad on the bus that stopped for the red light. It was perfect. My heart began to pound so fast as I raised my camera to take a few shots with the old man and the print ad. I was so nervous – I thought the old man might react negatively, and the bus might ride away with the print ad at any moment. I was right about the bus, but couldn't be more mistaken about the old man. He smiled and waved at me. I gave a faint smile and walked away.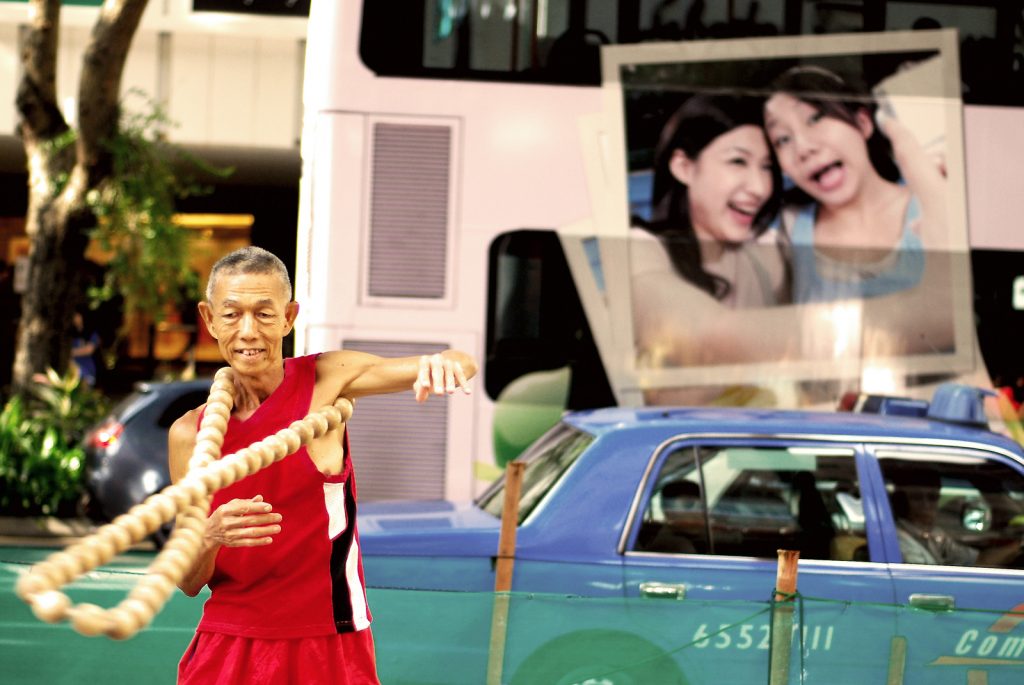 Later, when I reviewed the photo, I knew it was something I could be proud of. My first good street shot. The performer on the lower left, the smiling girls on the upper right, the juxtaposition was spot on. Even the taxi driver looking on added an extra touch. It made me want to capture more. And so far, that desire hasn't stopped yet.
Nowadays, I always see the old man in Orchard Road every time I shoot street on the weekends… and I always give him $2 as a token of appreciation for that one good shot. I think I'm beginning to be a familiar face to him. Every time he spots me to give alms, he laughs, waves at me and says "Thank you, thank you, gentleman!" I always smile back.
Recently, I got that chance to take a quick portrait of him. This was taken 1.5 years after my first good shot. And he's still got it.. he's still got that charm to make you smile :)
Do you remember your first good photograph?