Share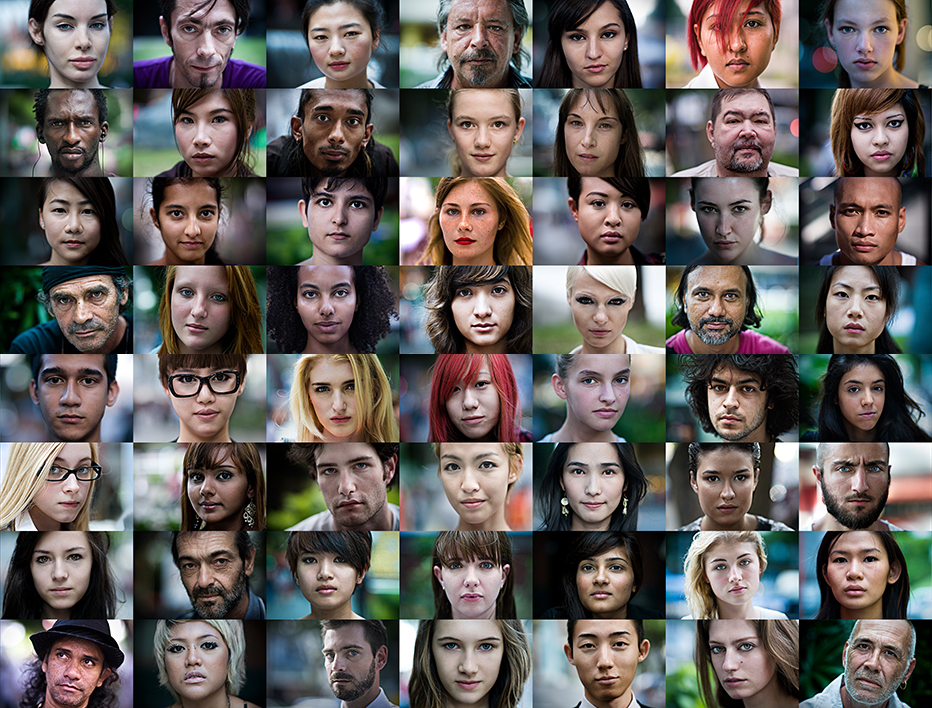 Every time I'm out in the streets, I would often encounter faces that make me look twice… faces that just stood out of the crowd without even trying… faces that are by no means ordinary. They range from the exquisitely beautiful to the strangely wonderful. Sometimes I would try to steal a shot without being too intrusive, most times I just stand there wishing I had the balls to just approach them and ask for their portrait. Thanks to my lucky stars … I eventually grew those balls to do so.

The 5 Sec Faces project I did in collaboration with Fleecircus was such an important headway for me on approaching strangers. Suddenly, strangers were no longer unwitting victims subjects, they were now willing participants … and that gave different life to the photograph, and a new awareness and dimension to my idea of shooting in the streets. When we wrapped up on the project, I felt like I wanted to continue shooting portraits. I came up with an idea that was just slightly different. 5 Sec Faces was about creating a collective portrait that showed the visible vibrancy and variety of the people of Singapore. This time I wanted to concentrate on the mysterious individuality of each subject. Take away the usual snapshot smile, zero in on the face, focus on the eyes, and you get that 'unguarded' natural look amping up the intimacy of each portrait.
"Is it ok if I take your picture?"
So there I was, almost every weekend walking around in Orchard Road, waiting to be struck by a face. And whenever that happens, I ask "Is it ok if I take your picture?" along with an unassuming smile. I've always considered myself lucky whenever I get a 'yes' from a stranger. Some would say 'sure' immediately, which is always a wonderful surprise for me :) Others would be a little wary and ask 'what for?' I would tell them exactly what I'm doing: shooting portraits of people in Orchard Road… a personal project for my portfolio. It's surprising and touching how many people would be supportive of this.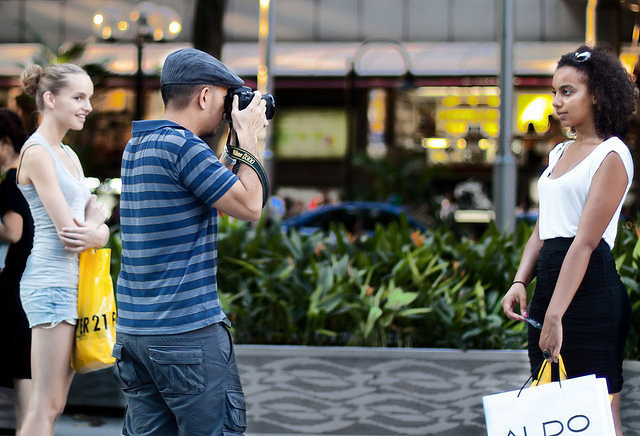 After taking their photo, I almost always hand over my name card that contains my website address in case they're interested in checking out the portrait I took of them. It's heartwarming that some would actually send me a message saying how they appreciate their portrait. In a few cases, it was their mother that thanked me! Those made me grin from ear to ear.
"Look in the camera, and don't smile."
The one thing I wanted to capture with every portrait was that 'unguarded' natural look… that look that moved me in the first place when I spotted them in the street… the look that can give even just a little bit of honest yet mysterious sneak peek to who they are without actually knowing them. I can still remember a viewer comment that perfectly described what I was trying to do. 'The Spoon' said: "personal invulnerabilities are captured in every portrait…"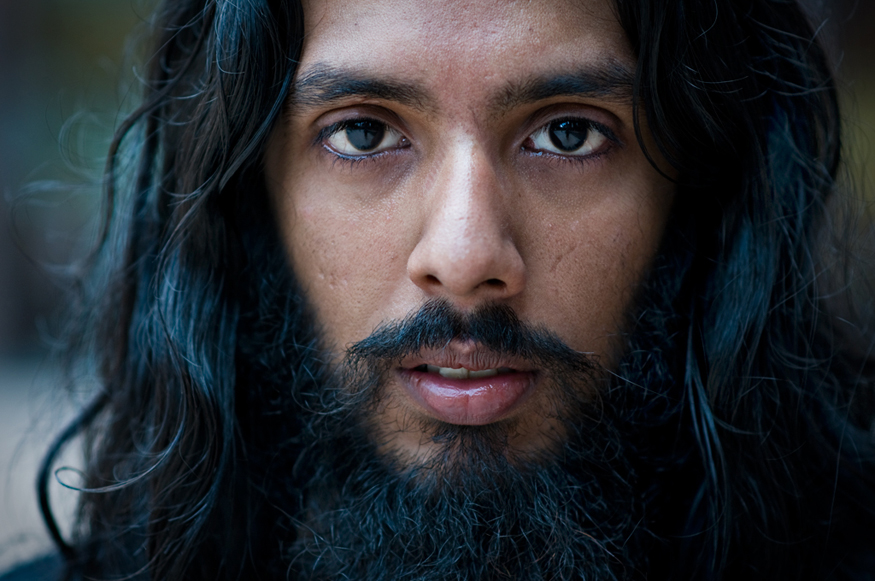 In trying to do this, I always ask them not to smile for the camera. I wanted to avoid that usual snapshot smile.. you know, that smile that you've smiled a thousand times whenever you're in front of a camera… the canned smile that sometimes make you look… different, forced even. Portraitist extraordinaire Annie Leibovitz wrote in her book:"It took me years to understand that I equated asking someone to smile with asking them to do something false." She further notes: "You can almost hear the sigh of relief when you tell someone they don't have to smile." I took this as a way to make the subject comfortable about being suddenly photographed in public… no need to do anything, just be yourself and look in the camera.
Now once in a while, a subject manages to sneak up a slight smile in the portrait… this is despite me telling them not to. I still appreciate this because at least I know that this was a sincere smile, which to me still makes for an honest portrait :)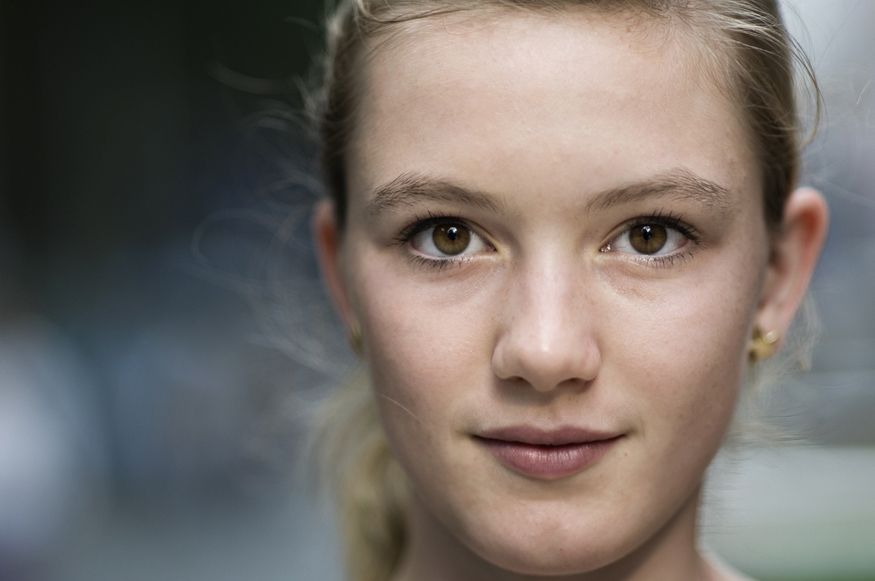 Of the many portraits I've taken, there was only one exception where I allowed a stranger to give up his pearly whites. This was coming from the guy who I appreciate a lot because he gave me my first good street photograph. I just couldn't not take his portrait: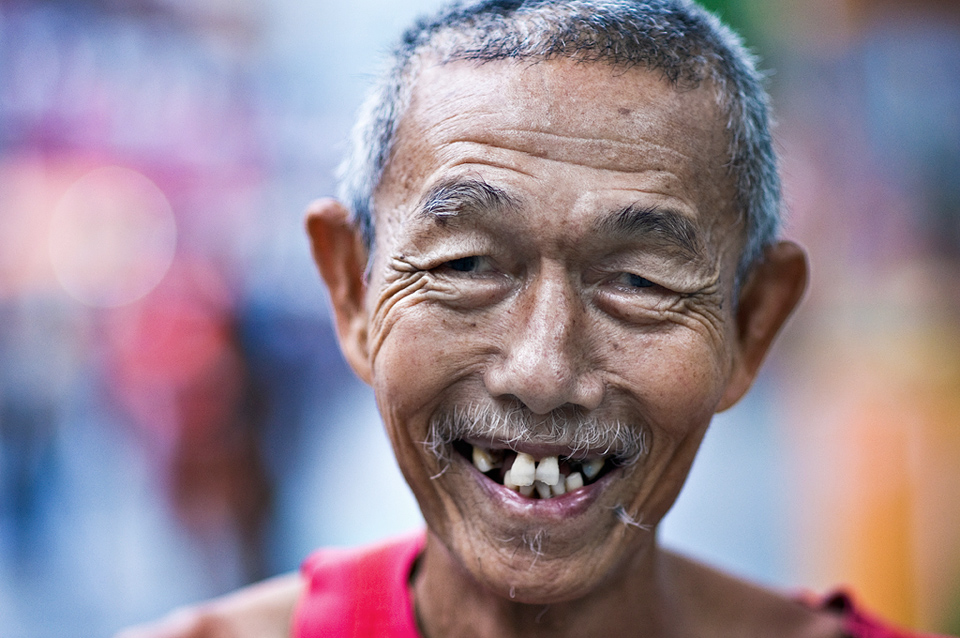 Now tell me, could you have resisted that smile?
Dealing with the Language Barrier
Being such a melting pot of different cultures, Singapore has given me the opportunity to capture different faces of different races. However, it has at times also presented me with a pretty difficult challenge: the language barrier. Sometimes I'm caught off guard when I realize the stranger that I just approached could not understand a word of what I just said.
When I approached this girl, she suddenly turned to her male friend speaking in a foreign language which sounded Slavic, probably Russian. Her friend seemed to be translating what I just said and convinced her to pose for me. Despite the language barrier, it's a wonder how she still managed to give me exactly the look that I was hoping for: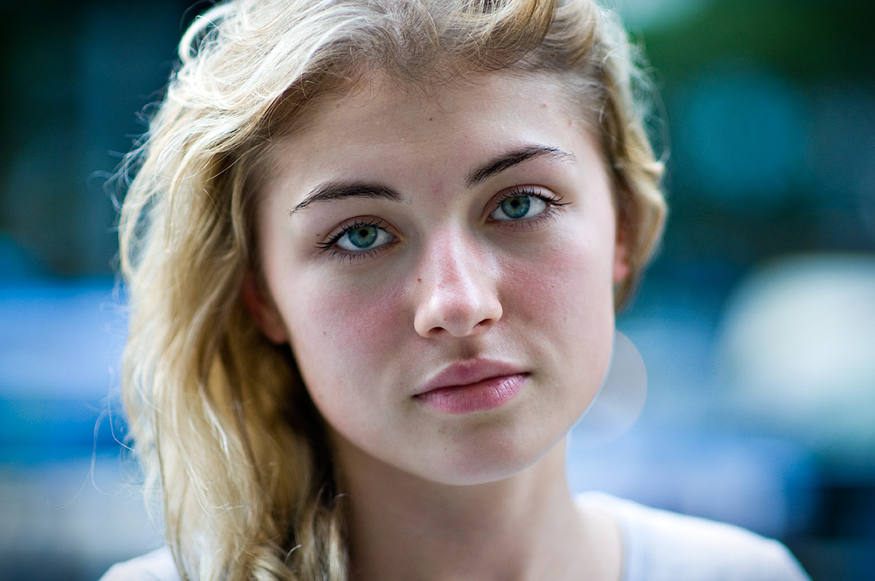 In another instance, when I asked this girl for her portrait, she just stood there looking at me quizzically… until I realized she didn't speak English. She finally said in a cute yet heavy accent "do you speak chinese?" It was a canned response like how you would say "hablo ingles?" I shook my head. So I tried to act out like we were in a game of charades: me… picture… you… She seemed to understand me. She nodded, stood still, and smiled. Back to charades: no… smile… She nodded and toned down her smile. The whole encounter was quite worth it.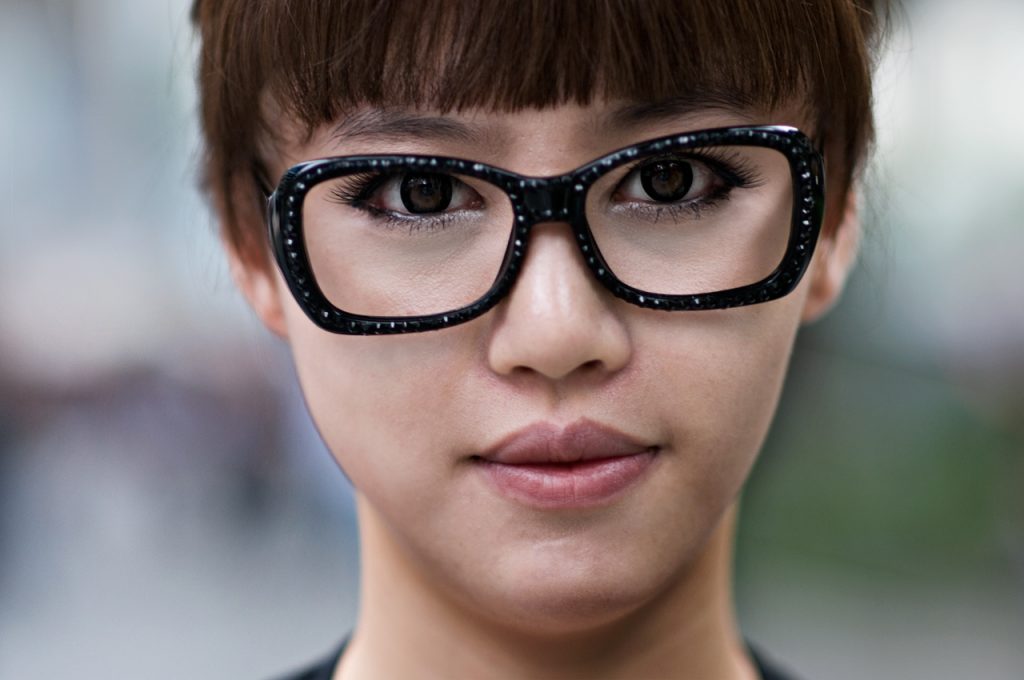 Facing the Fear and Anxiety
When I started this project, I honestly thought that this would be almost child's play for me given my experience in working with the 5 Sec Faces project. But as I discovered pretty quickly, approaching strangers with a project partner was a breeze.. approaching strangers ALONE was a whole different story. I've received a lot of comments from viewers saying how much they envy my audacity to just simply walk to complete strangers and ask for their portrait… the truth is in most, if not all, of the portraits I took, I could literally hear my heart pound away as soon as I spotted a potential subject. And in some cases, my hands would actually shake while taking their picture.
I can still remember when I was taking this photograph, I was actually struggling.. thinking: "Steadyyy… man, I hope she doesn't notice my camera shaking."
I always try my best not to show my fear, but sometimes it just bluntly comes out in the open. When I approached this girl, the moment I opened my mouth, I literally lost my voice… it was like I suddenly swallowed air. This embarrassing moment went for about 5 long seconds while she stood there with a faint smile. I was finally able to regain my composure and ask her if I could take her picture. Luckily, she said yes: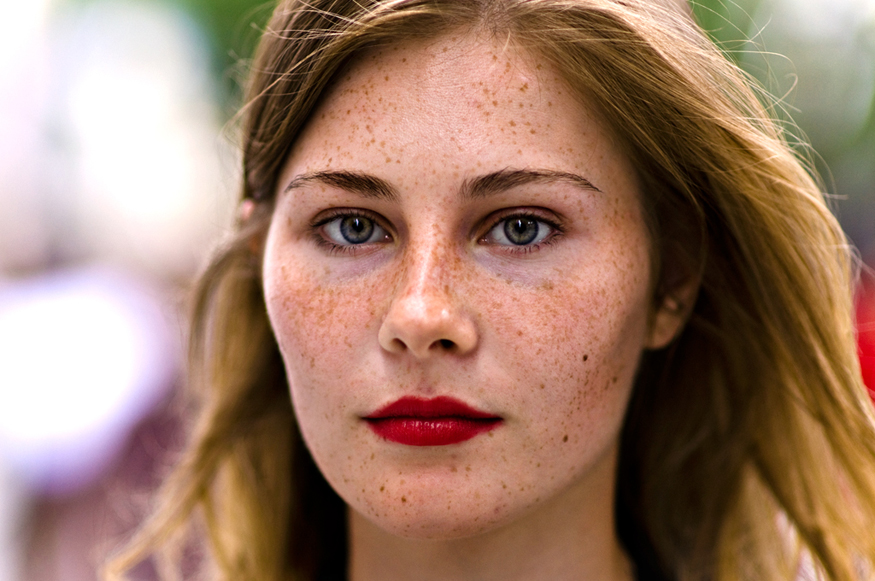 You'd think that somehow I'd get used to it. But the feeling of fear and anxiety was almost exactly the same from my 1st down to my 100th stranger. Despite that, I still kept on it. I remember Fleecircus telling me, "Hey, all for the sake of a good portrait, right?" Yup, she was right. Believe me, the high the I felt right after knowing that I just got a killer keeper of a portrait can be so strong that I sometimes literally see my hands shivering in excitement.
There are some rare instances where the fear was overcome by the complete determination to get that portrait. These are the instances where I knew that I would never forgive myself if I at least didn't try. I remember seeing her walking briskly and I just found myself running through the crowd, cutting off her path just to ask her if I could take her picture. I almost never do that because I'm not that daring. In this instance, I was glad I did: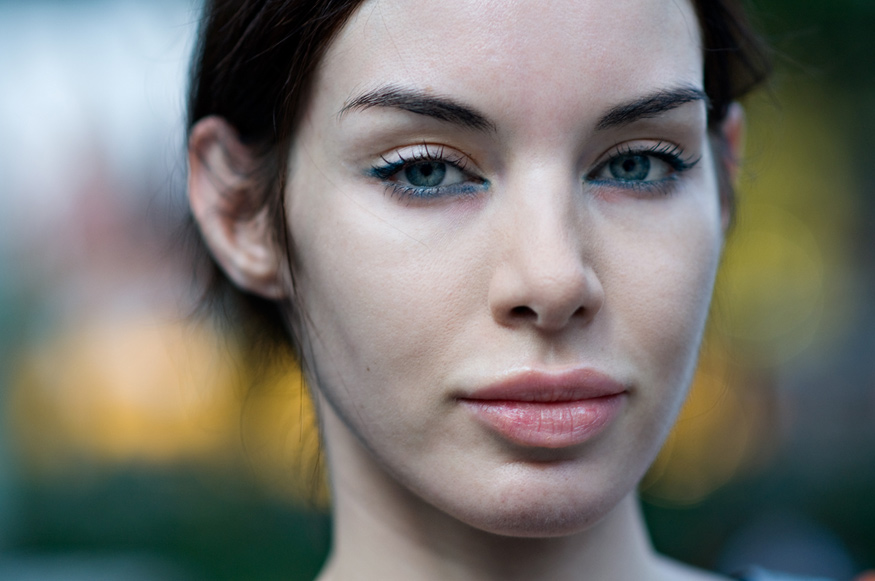 Getting that Nasty Rejection
One of the obvious reasons for feeling the fear during the course of this project is getting that nasty rejection. I am not that charming of a photographer who can easily sway everyone I see to spontaneously pose for me for a portrait. I also get rejections, maybe about 25% of the time. I don't blame them … I can understand the uneasiness of getting your photo taken in the middle of the street by a complete stranger. Most are quite shy and polite when they say 'no.' They even thank me at times, and I always appreciate that. It's the nasty rejections that get to me, that condescending 'no' as if I was an outcast of society. I can never get used to that crushing humiliating feeling that usually stays with me for the next 5 minutes… but then after that, I still eventually find myself up and about looking for the next potential keeper… or another rejection. But as I learned along the way, the regret of getting a nasty rejection is easier than the regret of not having that possible killer of a portrait because you were afraid of that rejection.
The Stories Behind the Photos
This project was an amazing experience for me. I can still remember each and every encounter I've had with all these strangers: how I spotted them, how nervous i felt, how they reacted to me, and the rewarding feeling afterwards knowing that I just got one more keeper in a set of a hundred keepers I was aiming to get.
With this experience, I'm thinking of making a photo book of these portraits along with my thoughts of my encounter with each stranger. I'm hoping to have this available online through blurb.com by January 2011.
From Street Photography to Portraiture
I've always wanted to be a portrait photographer. Street photography is my first passion, but after 2 years of wandering in the streets searching for that perfect candid moment, my fascination with seeing people in their most natural state has made me realize my predilection towards creating portraits. This project has given me the perfect avenue for a slow transition from street photography to portraiture… from capturing a moment incognito to capturing a personality up close. I will never stop shooting street, but after this project, I think I'll start venturing seriously into portraiture. I'm excited :)
Big Thanks to Everyone…
Thank you so much to all the viewers who commented so generously through flickr, facebook, and stumbleupon. And most of all, thanks to all the wonderful strangers who said 'yes'. I feel so lucky having been able to connect with these people even for just a few seconds. Different faces, different races… all of them beautiful in very different ways.
I also have to give thanks to the many bloggers who supported and featured this project. Because of them, I was fortunate to be noticed by BBH Asia Pacific. About 3 months ago, this ad agency gave me an amazing opportunity to shoot for an ad campaign in KL, Malaysia. I'll be talking about this next in this blog, so please do stand by for that.
To see all of the portraits, please visit:
• My Facebook Page
• My Flickr Page
_________________________________________________
A footnote for the curious tekkies:
The gear I used for this project is a Nikon D300 with 85mm f1.4 AFD lens. I usually take 3 shots wide open at f1.4, and another 3 shots at f2 – then I select which one to use upon closer review. No flash was used in any of the portraits, only available light on overcast skies or under the shade. For further information about the settings I used, the exif data for most of the portraits are available on my flickr set here.