Tag: orchard road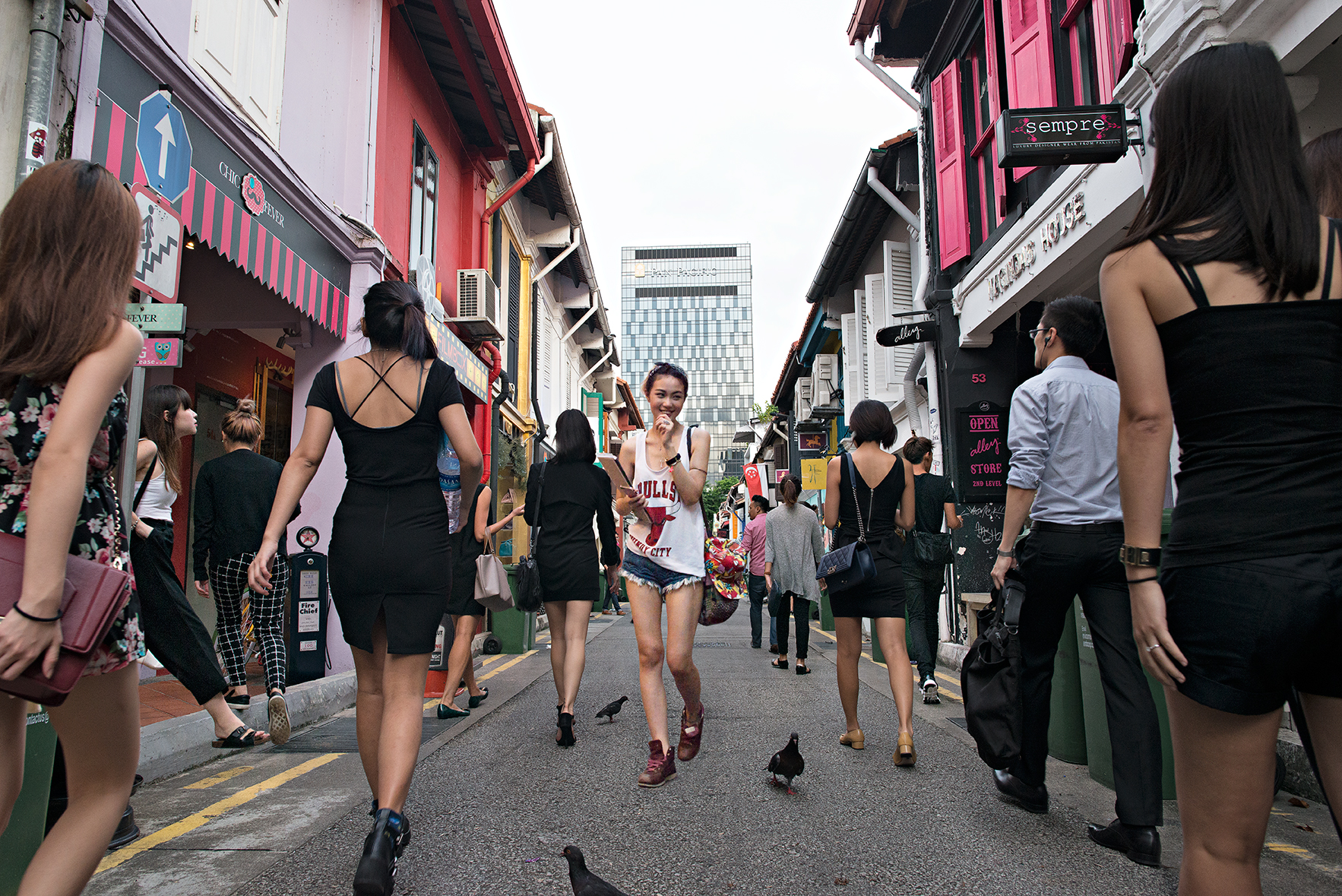 Singapore is such a multifaceted place that you can't help but see and feel the diverse energy of the crowd as you move from one place to another. From the central business district's suits and high heels, to the shopping centre's young fashionistas and clueless tourists, to the heartland's homey aunties and uncles. This is the subject of my recent project: capturing a bit of how it feels like to be in one place.. but instead of taking photographs, I decided to take a stab at creating composites.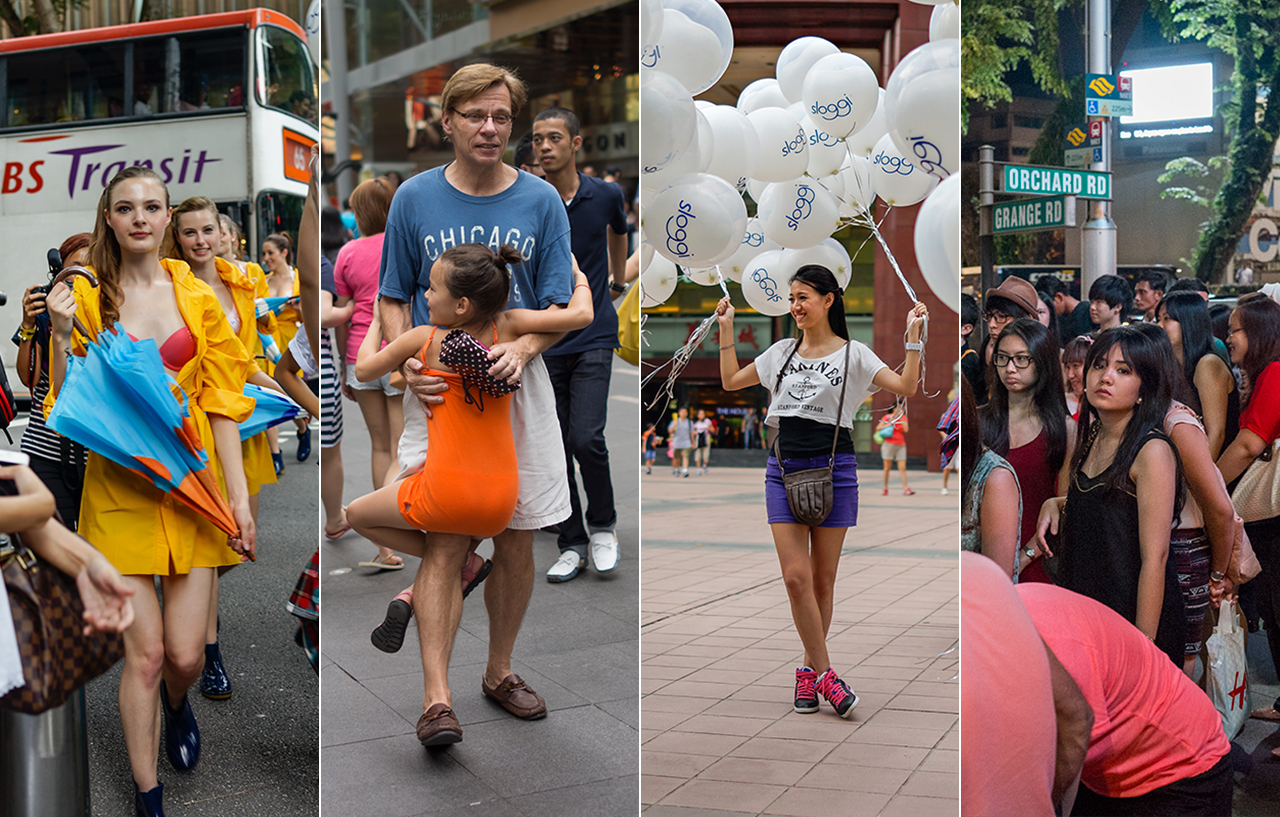 Of all my years of shooting in the street with my trusty DSLR workhorse, I've slowly come up with a wish list of features that would make it easier for me to capture keepers. The top 2 on the list are: a smaller camera body, and a full-frame sensor. So when I heard about the release of the Sony RX1, which basically combines these 2 features, I was crazy excited. And just recently, I had the chance to test drive this baby for a couple of weeks.
Lately, I was looking through my archive of street photos taken from the past 3 months. As I browsed among the sea of non-keeper shots, I occasionally came across photos where the subject was looking straight at me with a certain disconcerted look. I thought maybe it would be interesting to put these together into an album that shows my share of startled looks and nasty stares when shooting street.
I love shooting in the rain. If it's a weekend and it's raining, you'll probably see me with an umbrella on one hand, and my camera on the other, walking (sometimes running) around Orchard Road taking photos of strangers as they run from one mall to another. Often times, it's an adrenaline rush for me. As it turns out, the same can be said to the ones on the other side of the lens.
A few months ago, I got a message from Kelly, a project manager of a design agency in San Francisco – Tolleson Design. They were interested in buying a couple of photographs from my Portraits of Strangers set to use for a project they're doing. Unfortunately, I didn't have any release forms for any of the portraits, so using it for commercial purposes wasn't possible. So instead, they commissioned me to create a new set of portraits with the same aesthetic.

Photo above taken by photography hobbyist Paulo Legaspi
About a month ago, I was invited by street photographer Eric Kim to be a guest writer for his blog. He wanted me to write a few tips on shooting street portraits. Although I've already blogged about my thoughts and experiences while working on my Portraits of Strangers project, I haven't really provided any direct tips on how to work on a project like this. So I started writing down a few quick tips based on what worked for me. I'd like to share this article with you guys. Hope this helps :)
I love shooting strangers under bad weather. And for a while now, I've always wondered how it would be to shoot bad weather at night. I could only imagine how dramatic the shots could be with the combination of heavy rain and the night lights. Just a few nights ago, I've had the chance to do just that.
Every time I'm out in the streets, I would often encounter faces that make me look twice… faces that just stood out of the crowd without even trying… faces that are by no means ordinary. They range from the exquisitely beautiful to the strangely wonderful. Sometimes I would try to steal a shot without being too intrusive, most times I just stand there wishing I had the balls to just approach them and ask for their portrait. Thanks to my lucky stars … I eventually grew those balls to do so.
I miss shooting in the rain. It's been a while since I last walked around in heavy downpour, holding my umbrella on one hand and my camera on the other. I miss it so much that every time rained and I'm stuck in the office, I can't help but think of all the bad weather shots I'm not shooting. And it frustrated me more that as I excitedly anticipate for the rain in the proceeding weekends, it just never came. Until last week… after a long time, I once again caught the devil's luck.
I was walking along Orchard when I saw her walking towards my direction. She was wearing a simple one-piece dress, and was quite tall almost towering over most of the people around her. I wasn't decided yet if I wanted to shoot her, but as I got closer, I knew I had to – she had this subtle angelic charm. My heart started to pound… it always does whenever I'm about to approach a stranger for their portrait. I stopped her and asked if I could take her picture. She smiled and said "Oh, street style." I chuckled a "yeah…", relieved that she understood what I was doing.… Read more
---