Category: Personal Project
Weekend after weekend, I would walk around Orchard Road until I see a good spot with good light and good people traffic. The wait was hard, but spotting the right subject was easy – they would just so naturally stand out of the crowd and almost demand attention. I imagined myself a paparazzi taking fashion photographs of beautiful people walking nonchalantly in the streets.
I was standing in the middle of one of the heaviest rain I've shot on. As always, I was drenched from waist down and I kept my camera as close to the umbrella as possible. I've been waiting and shooting for about 30 minutes shooting here and there, but I haven't really seen anything peculiar… until I saw a woman from afar wrapped with a shawl walking gracefully towards my side of the street. She just stood out from all the others who were equally rushing to shelter. It's one of those moments when I thought "I HAVE to photograph her."
Once in a while, I get to capture a photograph that makes my heart leap. A "keeper" that would be part of my few photos that I would be really proud of. This is one such photo.
Last September 2009, Fleecircus and I started a project to create a collective portrait of the different personalities you can find in the streets of Singapore. Equipped with 2 cameras, a mounting board, and a bit of determination, we walked around Orchard Road, picked out one face after another, and asked if we could take their picture. "It'll just take 5 seconds" was our usual excuse. Some said no, but most said yes. We did this every saturday for two and a half months, and now we have 446 faces at 5 seconds per face.
I've been shooting street for almost 2 years now, and looking back at all my "keeper" shots, the feeling when I took each and every one of these photographs is still pretty vivid in my mind. I may not remember the settings for the camera, but the thought process I had at the moment of the shutter click I can still recall. And every time I browse back to these old shots, there's always this one photo that's special to me. This was my first good street photograph – the first one that didn't look like an ordinary snapshot – the one where I thought to myself "Hey, I can do this thing." … Read more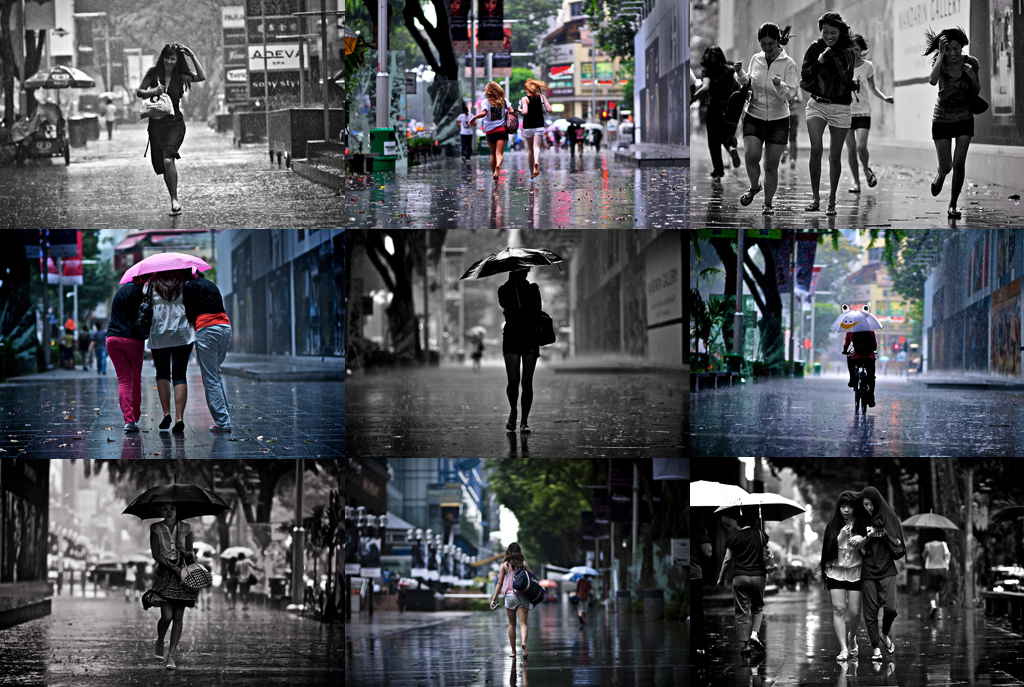 I'm a weekend photographer, and I used to always stay at home and sulk whenever it rains on a weekend. I figured: the light's no good, my gear could get wet, and the streets would be empty. There wouldn't be anything worth shooting. I'd complain in the forums whenever a weekend goes by and it's raining all afternoon. Until someone replied and suggested "why not shoot in the rain and see what you come up with?" I paused and figured "hmmm, why not?" … Read more
---