Category: bad weather
I love shooting in the rain. If it's a weekend and it's raining, you'll probably see me with an umbrella on one hand, and my camera on the other, walking (sometimes running) around Orchard Road taking photos of strangers as they run from one mall to another. Often times, it's an adrenaline rush for me. As it turns out, the same can be said to the ones on the other side of the lens.
I love shooting strangers under bad weather. And for a while now, I've always wondered how it would be to shoot bad weather at night. I could only imagine how dramatic the shots could be with the combination of heavy rain and the night lights. Just a few nights ago, I've had the chance to do just that.
I miss shooting in the rain. It's been a while since I last walked around in heavy downpour, holding my umbrella on one hand and my camera on the other. I miss it so much that every time rained and I'm stuck in the office, I can't help but think of all the bad weather shots I'm not shooting. And it frustrated me more that as I excitedly anticipate for the rain in the proceeding weekends, it just never came. Until last week… after a long time, I once again caught the devil's luck.
Just got featured in Singapore's August Man magazine in their annual photography issue. They asked me to pick one of my street photographs and say a few words about it … and I happily obliged. Of course I chose the rain shot I took of the lady with the shawl walking in the rain smiling, which I also featured as my 'Keeper of the Month' last May. I'm so excited about this feature. I actually didn't expect that it would take a whole page :) Big big thanks, Ci'en! :)
August Man is a Singapore-based men's magazine that features all things cool.… Read more
I was standing in the middle of one of the heaviest rain I've shot on. As always, I was drenched from waist down and I kept my camera as close to the umbrella as possible. I've been waiting and shooting for about 30 minutes shooting here and there, but I haven't really seen anything peculiar... until I saw a woman from afar wrapped with a shawl walking gracefully towards my side of the street. She just stood out from all the others who were equally rushing to shelter. It's one of those moments when I thought "I HAVE to photograph her."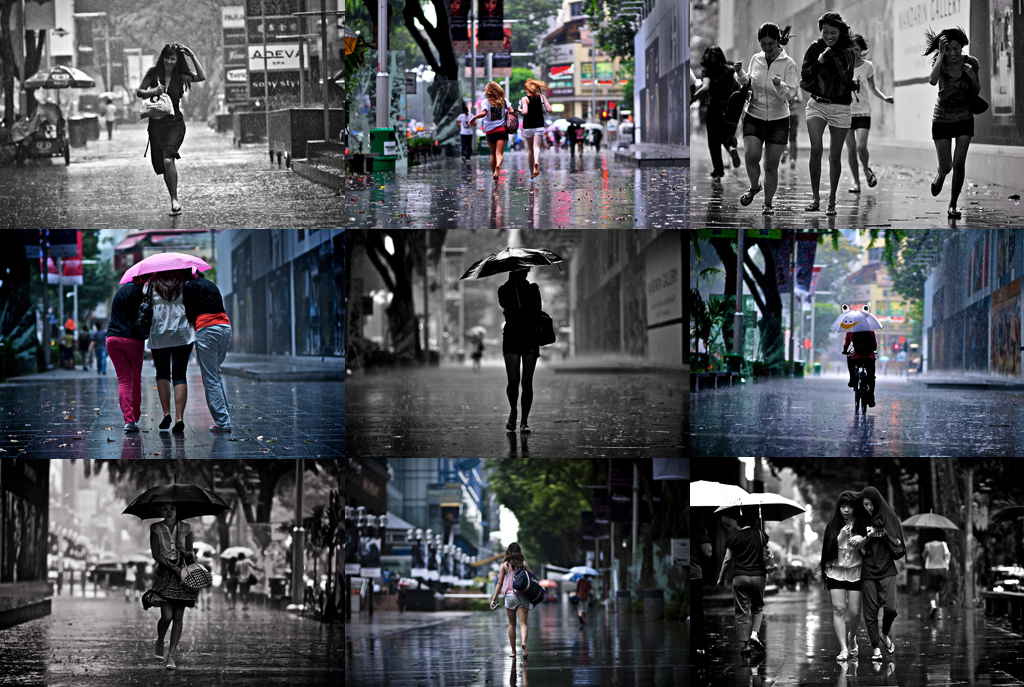 I'm a weekend photographer, and I used to always stay at home and sulk whenever it rains on a weekend. I figured: the light's no good, my gear could get wet, and the streets would be empty. There wouldn't be anything worth shooting. I'd complain in the forums whenever a weekend goes by and it's raining all afternoon. Until someone replied and suggested "why not shoot in the rain and see what you come up with?" I paused and figured "hmmm, why not?"
---